French soccer star Patrice Evra has been suspended by his football club Olympique Marseille for his karate kick aimed at the head of one of his club's supporters. The continental ruling body UEFA has handed an initial one-game ban while they review the case.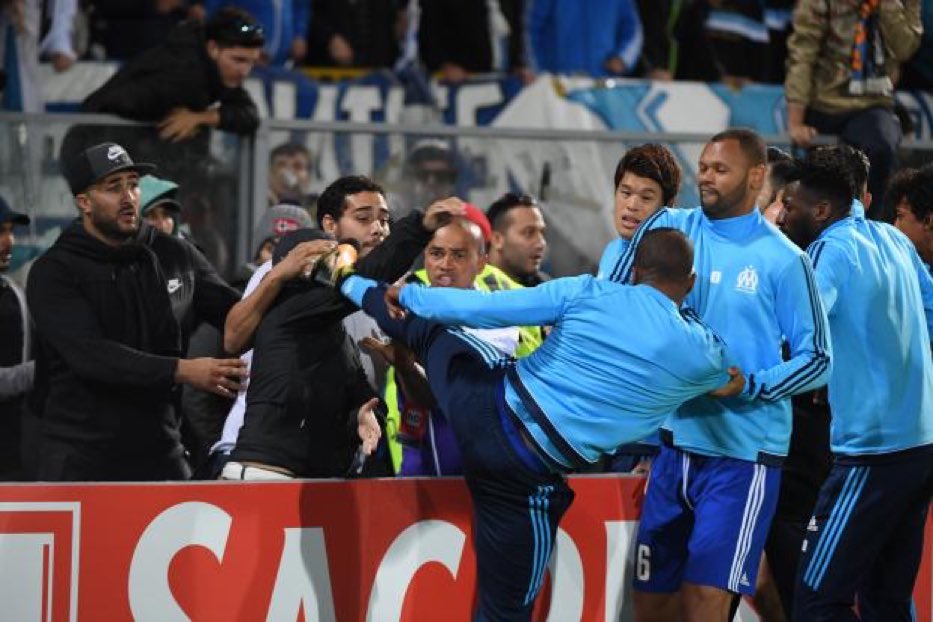 The veteran defender was involved in a squabble with club fans before their Europa League match against Vitoria Scat the Henriques Stadium in Guimaraes, Portugal. The former Manchester United player was sent off for his actions at the pre-game warm up.

The club president Jacques Henri Eyraud met with the 36-year old, hinting him of his immediate suspension aside further disciplinary actions to follow. The club "denounced" the behavior of the fans that provoked such from the players.
There are possible further sanctions from UEFA aside the one match ban for "violent conduct." The Control, Ethics and Disciplinary Body would discuss the matter in its next meeting to decide further actions, the body announced.
UEFA also charged the teams as their fans invaded the pitch in the emotionally tensed game, which Guimaraes went on to win 1-0. About 500 away fans' spots were reserved for Marseille but some left their spots to confront Evra. As stewards tried to intervene, a provoked Evra assaulted a fan so the referee showed him red card.
"No matter what happens, a professional player must maintain self-control despite provocations and insults no matter how unjustified they may be," Marseille insisted, condemning Evra's actions.
Marseille coach Rudi Garcia also blasted Evra for his actions, adding that it was "obvious" that an experienced player like Evra "must not react." The coach also turned on the fan for provoking the player.